PHILIP WRIGHT (d.1980)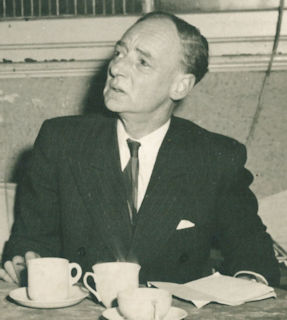 Philip Wright died during the night of January 10th-11th.

He, and his wife Win, came to us from Yorkshire in 1957, and until developing ill health forced his retirement he was our leading actor until the mid 1970's. Philip, a natural actor, possessed enviable technique, and was that rarity, a compelling figure on stage. He played every imaginably contrasting role, large and small, with complete assurance.

A gentle man of great kindness, tolerance, and good humour, he was also a man of action, having held naval command in the North Atlantic during the Second World War. On behalf of his many friends who loved him dearly, I offer Win Wright, a continuing very active life member, our deepest and sincerest sympathy.

BILL WALL

---
From QUESTOPICS 13 (February 1965)

PERSONALIA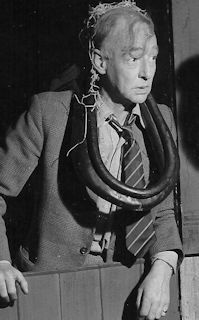 Popular acting member PHILIP WRIGHT has been "stage-struck' for nearly forty years. He was born outside Leeds and after an early career at sea, joined his father's professional company, playing the juvenile lead in Mr Pimm Passes By, eventually graduating to the title role. Later he played in repertory and his colleagues at that time included Hamilton Dyce and Campbell Singer (co-writer with Questor
George Ross, of the successful business 'who-dun-its').

Spreading his wings, Philip discovered he could dance and appeared in the tour of Quaker Girl and other musicals, usually playing Jack Buchanan type roles. Soon afterwards Philip retired from the professional stage and moved into the world of insurance. He kept his hand in by appearing as guest artiste with the famous White Rose Players at Harrogate and played hundreds of parts at Bradford Civic Theatre and Leeds Arts Theatre.

Philip believed his acting days were over when he moved to London with his wife, Win (an active member of The Questors box office staff). Out of the blue he received a letter from The Questors informing him of the date of his acting audition. Win, his most ardent fan, determined to see him treading the boards once more, had sent in his application. After what he describes as the 'world's worst audition' he joined The Questors in 1957.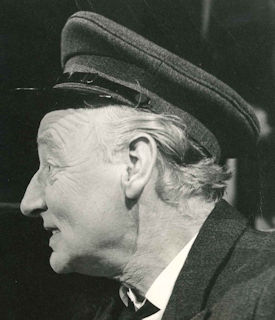 He has played a wide range of parts, was Secretary of the theatre for some time and has been a member of The Grapevine Club Committee for the last four years. An acting highlight was when he took over the part of Willy Loman in Charles Marowicz's production of Death of a Salesman at short notice and played without a prompt. Noah and Willy Loman are his favourite roles and he would like to play Elwood Dowd in Harvey again—a part he has already played three times. Philip has little time for hobbies outside The Questors but admits to enjoying 'mucking about in boats'. Since the new theatre opened, Philip has appeared in Dandy Dick, Hindle Wakes, A Midsummer Night's Dream, Sweeney Todd and is playing Mr Pinchwife in Jeffrey Smith's production of The Country Wife.. As a mernber of the audience was heard to say recently on leaving the theatre—"Philip Wright is a very funny man".
---
PHILIP WRIGHT AT THE QUESTORS