NEVILE CRUTTENDEN
(d.1990)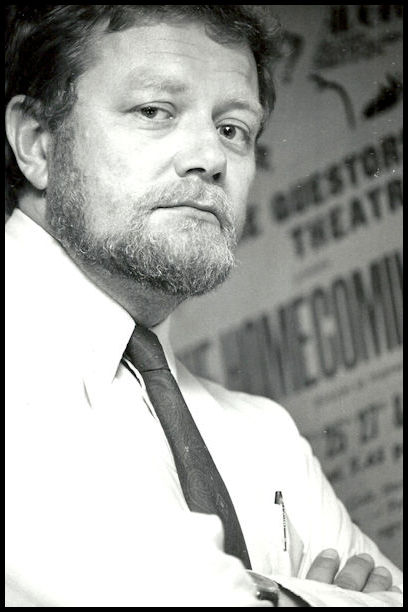 We have all been shocked and saddened by the news of the sudden and totally unexpected death of Nevile Cruttenden on Friday, 27th April 1990. Questopics joins with The Questors in extending our deepest sympathy to Nevile's wife Julia, their children Hannah, Abigail and Hal, and all the family.
It is not every Acting or Active Member who really understands what The Questors is all about. Nevile was one of those who did and what he gave to The Questors during 27 years of active membership was all the greater for that (as, I fancy, was what The Questors gave to him). He will be sorely missed. Joining us more or less fresh from University, he quickly made his mark as an actor in his first role of the Major in Shaw's The Devil's Disciple in 963. From then on he was seldom off The Questors' stage for long, playing over 40 widely varied roles right up to the time of his death. These ranged from the great classical roles such as King Lear (1975) and Othello (1981) to the light comedy of Alan Ayckbourn's Bedroom Farce (1985), rich character parts such as Shpigelsky in A Month in the Country (1983), or modern roles like Cliff in Look Back in Anger (1966). He always welcomed the challenge of trying something new, including experimental work as when he played Claire in Alan Clarke's production of Genet's The Maids (1965) with an all-male cast. In consequence he developed a range far wider than that of most of our actors. Nevile always played with an assurance based upon his painstaking work, which nevertheless concealed a nervous feeling of insecurity, which he shared with (I think) all creative actors.
Nevile soon entered fully into the life of the theatre. He was elected to the Committee of Management in 1968 and served until 1982, for most of the time as Vice-Chairman. As Publicity Director from 1968 to 1974 he brought a fresh life and vigour to our standards of publicity and public relations at that time and he was closely involved in re-examining, redrafting and up-dating our Statement of Aims, which were approved in 1972. He subsequently chaired the Working Party to implement those Aims and, when the system was changed in 1973, he became The Questors' first Director of Productions, serving in that capacity until 1976 with great judgment and flair.
To whatever Nevile touched he brought a great integrity and a true understanding of the value of artistic standards, coupled with an enormous and lively zest. He will be remembered with affection by his many friends, and with deep gratitude by The Questors.
ALFRED EMMET
[Questopics 326, June 1990]
A LIVING MEMORIAL FOR NEVILE CRUTTENDEN
Nevile was one of our leading actors for nearly thirty years — from his first performance in The
Questors' only previous production of The Devil's Disciple (1963) to his last in The Shadow of a Gunman earlier this year. He was, of course, very much more — Vice-Chairman, Publicity Manager, Director of Productions — but it is as an actor that we will remember him above all else, and his memorial should lie in the acting sphere.
The acting future of our theatre depends to a very large extent on the continued success of the
Student Group. With Julie's wholehearted approval, and the support of a number of Nevile's friends, I
am therefore launching an appeal for a capital sum to be invested. The interest on that sum will be
used to provide bursaries, in Nevile's name, for those members of the Student Group who would
otherwise find the course fees a real financial burden. In this way we hope to provide Nevile with a
living and lively memorial.
MARTIN BOWLEY
Chairman, The Questors Theatre
[Questopics 330, November 1990]
---
Nevile Cruttenden on Stage
1963 Devil's Disciple, The
1964 Hindle Wakes
1964 One Leg Over the Wrong Wall
1965 Maids, The
1965 Reflexions
1966 Hecabe
1966 Look Back in Anger
1966 Scent of Flowers, A
1967 Collection, The
1967 Italian Straw Hat, An
1968 Don't Keep the Vanman Waiting
1968 In Search of Man
1969 Richard II
1969 Who's Afraid of Virginia Woolf
1970 School for Scandal
1971 Duchess of Malfi, The
1971 Few False Slaps, A
1972 Happy Haven, The
1973 As You Like It
1973 Nutty Slack Spectacular, The
1973 Touch-and-Go
1974 An Evening with T S Eliot
1974 Rosencrantz and Guildenstern are Dead
1975 King Lear
1975 Occupations
1976 Lark, The
1977 Home
1977 Random Moments in a May Garden
1977 Silence
1978 Anthony and Cleopatra
1978 Rosmersholm
1979 Ghost Sonata, The
1979 Jumpers
1979 When We are Married
1980 Hostage, The
1981 Othello
1982 Betrayal
1983 Month in the Country, A
1984 Phoenix
1985 Bedroom Farce
1985 Harry
1986 Bartholomew Fair
1986 Destiny
1986 Hollow Crown, The
1987 If Shakespeare Were a Friend of Ours...
1988 Father, The
1989 Account
1989 Kind of Alaska, A
1989 Mind Forest, The
1990 Crucial Week in the Life of a Grocer's Assistant, A
1990 Shadow of a Gunman, The