BILL WALL (d.1983)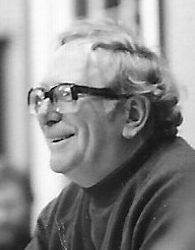 Bill Wall, who died on Feb 1st after a courageous struggle against ill-health, was one of those rare people to whom others warmed instantly and his death leaves a gap at The Questors which it is impossible to fill. Although most people think of him simply as a kind, loveable personality, he also did much work for the theatre. He was the first secretary of the Grapevine in 1958 and there would have been no Bar if William had not characteristically volunteered for the hot seat. A witty contributor to
Questopics he also undertook a whole host of small parts at which he worked unstintingly, and was a regular front-of-house steward.

He was always so cheerful one might forget he had a serious side. In 1945 he won the Military Medal and bar for gallantry. He held an OU degree and a London University diploma in English literature. He loved classical music and the great 19th century novels.

To his wife Sylvia we extend our deepest sympathy on the loss of one who was, as Dr. Watson wrote of Sherlock Holmes, the best and kindest man I have ever known'.

MIKE GREEN
---
(from Questopics, October 1967)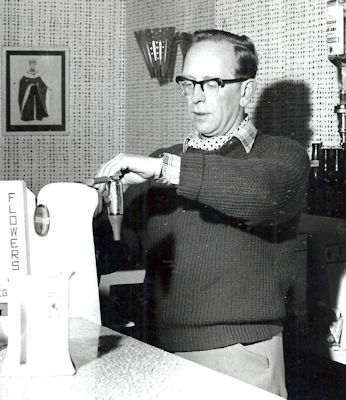 Bill Wall's greatest contribution to the Questors has probably been as founder-secretary of the Grapevine Club. In 1960 the Questors had proudly announced the opening date of their new bar only to find nobody would take on the job of secretary (largely since it involved being dragged into court if anything went wrong). It's typical of Bill Wall that when approached he immediately accepted and enquired about the dangers afterwards. When it was pointed out that he was legally liable for any breach of the law he merely remarked "Well, you can't hang higher than the gallows".

Until then Bill had been comparatively unknown at the Questors, although he had carried a spear in Henry V, despite a tendency to get into the wrong army at times. After becoming Grapevine secretary he blossomed forth not only in the bar but on the stage, where he found the fact that he had never taken an audition no barrier to success in various roles of increasing minuteness.

His greatest roles, however, have always been played in the bar, where his witty and highly-coloured impersonations of various Questors personalities, have won him an admiring audience, although, as he says, it means he doesn't have any friends left.

Some three years ago Bill gave up his Grapevine post, although he is still an active committee-member. Looking round for fresh fields he took an acting audition, which reduced the committee to tears of mirth, and passed, since when, he says, he never had a decent part.

A teacher of the deaf by profession Bill served in the Kings African Rifles during the war and won the Military Medal and bar. A year ago he at last achieved a starring role in his own marriage after more than forty years as a bachelor, and he now lives with charming wife Sylvia in a flat in Chiswick, together with an infirm old friend, who is also editor of Questopics.
---
BILL WALL AT THE QUESTORS (ACTOR)