COLIN PRONGER (d.1996)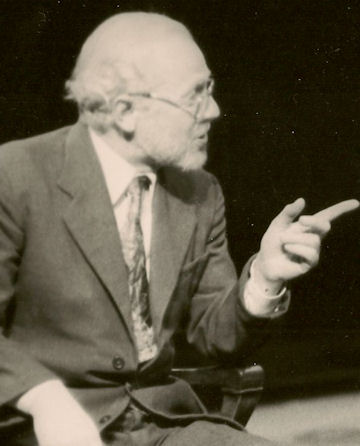 The recent death of Colin Pronger at the comparatively early age of 61 has removed one of The Questors most accomplished actors and popular personifiers. Colin joined in 1966, from Richmond Shakespeare Society, where he had played Hamlet among other parts, and soon established himself as capable of taking the most taxing roles. His first part was Malcolm in Alan Clarke's controversial production of Macbeth and then followed a string of major roles including Astrov in Uncle Vanya, the King in Henry IV Part 2 (1970), Shylock (1977) and Gayev (The Cherry Orchard 1985).

Colin was an actor of wide range, equally at home with tragedy or comedy. Off-stage he was charming, urbane and witty – one always imagined him with a glass of wine in hand and a cigarette and a witty remark on his lips – and he was especially talented at portraying smoothies such as Perrelli, the gangster chief in Edgar Wallace's On the Spot (1976), fussing about the blood on his expensive carpet after he shot somebody. Another memorable role was Moriarty in The Real Death of Sherlock Holmes, which went to the Edinburgh Festival in 1989. Colin played him as an unctuous and pathetic little man in frayed coat and blue mittens, with the bite of an adder in his voice when defied.

His last part was Stewart, the Secret Service official in Pack of Lies in 1994, as polished and accomplished a piece of acting as one could wish to see. Many Questors were among a large congregation at the funeral at St. Anne's, Kew Green, where his father had once been vicar.

MIKE GREEN (June 1996)
(The Questors would like to thank family and friends who made donations to the Theatre)
---
COLIN PRONGER AT THE QUESTORS
1966 Macbeth
1967 It Was Never So Merry, My Lord!
1968 Uncle Vanya
1970 Henry IV Part 2
1971 A Delicate Balance
1973 Heartbreak House
1974 Dracula
1975 On the Spot
1977 The Merchant of Venice
1978 The Thwarting of Baron Bolligrew
1979 Portrait of a Madonna
1980 Macbeth
1980 A View from the Bridge
1983 A Month in the Country
1985 Black Comedy
1985 The Cherry Orchard
1987 Right You Are (If You Think So!)
1988 The Father
1989 The Real Death of Sherlock Holmes
1991 The Devils
1994 Pack of Lies