PAT GOWMAN (d.2021)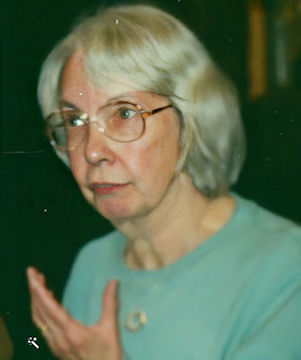 We have just received the sad news of the death of Pat Gowman on 13 January. She had been in a care home for some years. She was a quiet, warm, extremely bright presence at The Questors both as a director (her last produciton with us was The Herbal Bed in 2000) and busy behind the scenes. She is fondly remembered and sadly missed by all that new and worked with her.

John Davey Writes:
I think it was in 1986 that I first became aware of Pat. She was working on what was then known as a Director's Shop Window - the process by which a member of Questors could become a director at the theatre by directing a one-act play with a group of Questors actors. I can't now remember the play or the actors, but I do remember being struck by the way Pat was going about it.

Directors come in many forms, but it's not unusual for them to be quite large characters whose presence makes itself felt by energy and, occasionally, volume. Pat was the polar opposite. Her energy was there, but it was contained and focused, and I couldn't hear what she was saying to the actors. She would take an actor aside and patiently explain something that she had observed. There was a perceptible difference when the scene was run again.

That quality of quiet and gentle insistence was one of the most effective tools in her directorial box – that, and an evenness of temperament. I never heard her raise her voice nor saw her show irritation. Yet she went on getting positive results in all her many and varied productions.

Part of that success was a result of her possessing a strong intellectual grasp of the material she worked on, together with a clarity of purpose. She also created strong and devoted teams, a tribute to her personal qualities, her wit and good humour – and her complete antipathy to any form of gossip.

She launched her directing career at Questors in the Studio in 1987 with The Radio Ray Fan Club, one of three one-act plays by Dorothy Velasco, under the general title of American Dreams. By September of the same year she had moved on to the Playhouse with another two-hander, Willy Russell's Educating Rita. From then, until her final production in the Playhouse (Peter Whelan's The Herbal Bed) she continued to direct a play a season, showing a great range while maintaining an assured quality. Thus it was that Hobson's Choice was followed by The Taming of the Shrew, and The Playboy of the Western World (which also toured to the Minack Theatre) by Andre Obey's Frost at Midnight .

Pat was pre-deceased a few years ago by her husband, David, who was not only a very active audience member, but an occasional director of rehearsed readings. Like Pat, he had a strong intellectual interest in the theatre, perhaps illustrated by one of his choices for a rehearsed reading – Ibsen's The Vikings at Helgeland, not a play known to many. They were a close couple with a wide circle of acquaintances within the Questors family. Both were individuals with a keen sense of observation and an engaging sense of humour.

Pat will be remembered with enormous affection – and a great deal of respect – by the many of us who were privileged to know her and to work creatively with her.

---
Jenny Webb:
The first show Pat directed at Questors, was the first show I set designed- Educating Rita With Nevile Cruttendon and Ceri Jones. A wonderful experience and Great memories of Pat. She was a truly wonderful and likeable lady. So sad.
---
Anne Neville
A lovely gentle human being. Sad!
---
Paul Francis
Very sad. I did Herbal Bed at Questors with Pat as director. And she was wonderful to work with. Kind and sensitive and inspiring
---
Helen Walker
Pat was a really lovely, generous and intelligent woman. She started directing when Geoff Webb was artistic director and I was running the studio and we encouraged her to start directing. She was great, as expected but really modest and always looking to improve. I've been thinking about her recently, so very sad to hear this news. RIP Pat x
---
Maggie Turner
Very fond memories of her directing The Prime of Miss Jean Brodie. RIP Pat x
---
Fiona Partington
She was absolutely lovely to work with. So supportive and thoughtful. So sorry to hear this.
---
John Turner
A quiet, authorative, patient director, much missed at The Questors and by me. R.I.P. Pat
---
Mark Fitzgerald
Worked with her on Playboy of the Western World. A joy. Really patient, supportive made one feel confident and able to try anything.
---
Jane Dewey
Such a gentle and warm person. I've been missing her for a long time
---
Howard Shepherdson
I remember her work as a director. Sad to hear of her passing.
---
Simon Roberts
I was, like so many others, very sad to hear that Pat had died. She cast me in her production of Hobson's Choice in 1989. We were, as I recall, a feisty lot, not least Roger Lewis as Hobson and Neville Bradbury as Dr MacFarlane: forces to be reckoned with for any director (or anyone else come to that). Pat was the ideal director to be at the helm: patient, genial, unflappable, unassuming - but certainly no pushover. I admired her quietly confident presence as a director and I'm grateful to her for giving me my first Questors break. RIP Pat
---
Peter Salvietto

I was saddened to hear of Pat Gowman's passing, and wanted to share my memories of her. Although I never worked with Pat at Questors, I did work with her, of all places, at GSK, in Beecham House, where we were both employed, although she was in a much more senior role than I ever was.

Pat was instrumental in setting up a drama group within GSK, or Beecham Group as it was then, to which I, and others, responded. Of the three productions we did, "Blithe Spirit" was the best known. Pat took us to see one version of the play at Richmond Theatre, as well as an am-dram production, and we promptly "borrowed" the best ideas from both!

After the drama group dispersed (being quite limited in what plays we could actually perform, for many and varied reasons), I lost touch with Pat, until I joined Questors in 2003, when, by chance one day, I bumped into her in the Lower Foyer, where we spent some time bringing each other up to speed, and reminiscing over the old days.

She was a remarkable person, and I'm pleased to have known her, however briefly.

---
PAT GOWMAN AT THE QUESTORS (DIRECTOR)
1987 Educating Rita
1987 The Radio Ray Fan Club
1989 Hobson's Choice
1990 The Taming of the Shrew
1991 Long Day's Journey into Night
1992 Temptation
1993 The Playboy of the Western World
1994 A Chorus of Disapproval
1994 Judgement Day
1996 The Prime of Miss Jean Brodie
1997 The Exorcism
1998 The Dresser
1999 Frost at Midnight
2000 The Herbal Bed