PETER KNIGHT (d.1996)
Tragically, Peter Knight died as a result of a heart attack in Minorca in early May.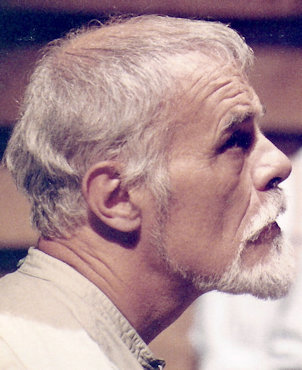 Peter will be greatly missed by all who knew him. His boundless enthusiasm for all forms of art, particularly the theatre and opera of which he had great knowledge, was extraordinary. He travelled extensively to see productions in this country and abroad and his experience of theatre and opera was prodigious.

He had a very fine theatrical taste and he could be quite acerbic in his appreciations. An abiding theme was that things should be "theatre size".

By a stroke of irony, Peter who was the editor of Questopics, was writing a series illuminating the activities of 'unsung heroes' at The Questors. His activities at The Questors were varied including acting, directing, designing and stage management. The loss of his contributions will be felt.

He was one of the kindest and most generous people we have had the pleasure and honour to know. He was a good friend in need and deed.

On behalf of The Questors, we extend to Peter's family and his partner Neil, our most heartfelt condolences.

"He was a verray, parfit gentil knyght."

MIKE and GILLY DAVIS (July 1996)
---
Peter Knight at The Questors
(as actor unless indicated otherwise)
1981 A Streetcar Named Desire
1981 The Winter's Tale
1982 The Relapse
1982 Twelfth Night
1983 Caligula
1983 Glass Houses
1984 Dancing Naked
1984 Henry IV Part 1
1984 The Infernal Machine (extract)(director showcase)
1984 The Philanthropist (designer)
1985 Bedroom Farce (designer)
1985 Harry
1985 Men and Women (director showcase)
1986 The Ealing Mystery Cycle (Compost)
1986 Wealth
1987 The Death of Joe Hill
1987 Somewhere in England (stage manager)
1987 Two Gentlemen of Verona
1989 The Town-Fop (rehearsed reading)
1992 Crucial Week in the Life of a Grocer's Assistant (Edinburgh)
1992 The Looking Glass Lesson
1993 The Arbitration (rehearsed reading)
1993 At Home with the Macbeths (rehearsed reading)
1993 Vera (rehearsed reading)
1995 Holloway Road (director - rehearsed reading)