The Questors Youth Theatre
THE CHRYSALIDS
by John Wyndham
adapted by
David Harrower

In a double bill with
Ernie's Incredible Illucinations

The Questors Studio
February 2003

Directed by David Emmet
Designed by Alex Marker
Lighting by Damien Lazell
Sound by Helene Marler
Costumes by Claire Burke,
Izabella Urbanowicz
---
Cast:
Eamon Ali, Helen Burgess, Annabel Burton, Joseph Cornforth, Michelle Deeney, Christina Eckersley, Natasha Ford, Theo Garman, Claire Hurley, Lucie Jeffery, Jade Kearney, Stuart Learmonth, Tracey O'Brien, Dominic O'Connor, Clare O'Connor, Stephanie Revell, Tayo Rotibi, Zaky Shukor, Hannah Webster, Ruth Williamson.

Production Team:
Bernard Brady, Claire Burke, David Emmet, Tina Harris,, Cathy Kelleher, Damien Lazell, Alex Marker, Helene Marler, Sally Milton, Jim O'Connor, Evan Rule, Jo Seager, Chris Sydenham, Izabella Urbanowicz.

---
The Questors Youth Theatre
Youth Theatre productions at The Questors
---
THE CHRYSALIDS
adapted by David Harrower from the novel
by John Wyndham
In a post-nuclear holocaust future, in Waknuk, Labrador, lives a small community of people. Puritanical in their beliefs, bigoted in their doctrines, they struggle to survive the ever-present threat of genetic mutation.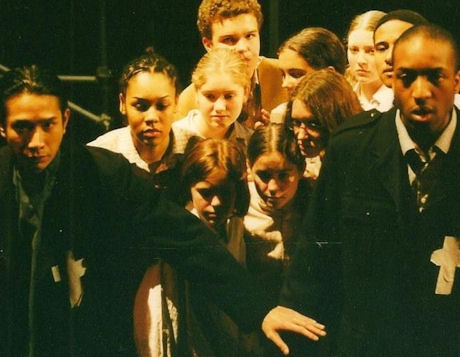 In the centuries since the devastation they have come to insist that the only pure human is one made in God's image, and that anyone that fails to measure up to that is a mutant, to be reviled, cast out and destroyed as an obscenity. They are ruthless in their pursuit of purity and their hunting of the abnormal. Contrary views are relentlessly suppressed. Any mutants must endure great hardship and degradation or hide to survive.
So what happens when seven children are born with a mutation no one can see? The children know they are different, and they fear their elders, even their parents. For these children have powers of telepathy, which would be called a profound evil in Waknuk.
As they struggle to come to terms with growing up and their difference, they see what happens when one of their number confesses. From that point on, escape is the only option. But can they make it to where the outcasts live, and beyond?
Could there possibly be any better world elsewhere?
---