John Ruck (d.1971)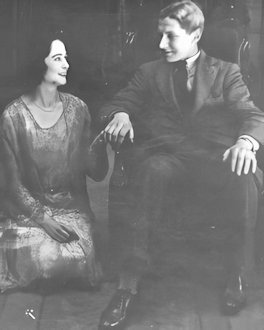 John Ruck with Christine Blackwood in "I'll Leave It to You" 1930
John Ruck, who died on 3rd November, 1971 was one of the founder members of The Questors, playing with great distinction in many of the earliest productions.
Perhaps his greatest contribution was a deeply moving performance with the late Alec Payne in a production of The Road of Poplars, presented first of all at the Park Theatre, Hanwell, in November 1930, and afterwards in the British Drama League Festival. This production is particularly remembered as an early turning point in The Questors' history. Its success directly led to the formation of a policy, which later became the foundation of our development. John, as a member of the first Committee, took a very leading part in those early formative years.
While he had not been able to act for many years, he remained a keen supporter and a regular club member. We recall with gratitude his important contribution to the life of our theatre.

Alfred Emmet
---
JOHN RUCK AT THE QUESTORS
1929 The Best People
1930 I'll Leave It to You
1930 The Play's The Thing
1930 The Road of Poplars
1930 Wurzel-Flummery
1931 The Importance of Being Earnest (play reading)
1931 The Road of Poplars (BDL Festival)
1931 Windows (play reading)
1932 Gruach
1932 Heartbreak House (play reading)
1932 Mary Stuart (play reading)
1932 The Romantic Young Lady
1933 Behold We Live (play reading)
1933 A Bill of Divorcement (ext)
1933 Dragon's Teeth
1933 The Faraway Princess
1933 Masque (opening night at Mattock Lane)
1933 Young Woodley (play reading)
1934 The Doctor's Duty
1935 Catherine Parr
1935 The Taming of The Shrew
1935 Wonderful Zoo
1937 The Beaux' Stratagem (play reading)
1937 The Fatal Rubber