MEIC LLEWELLYN (d.2018)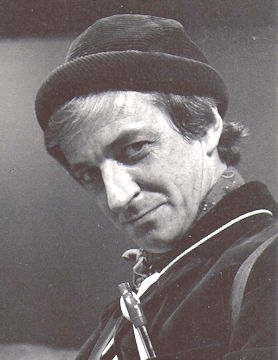 It is with sadness that we report the death of Meic Llewellyn, an acting member at The Questors from the seventies until he and his partner James retired to Languedoc in 2000.

Older members will recall his enthusiastic contribution to several productions including Oh! What a Lovely War (1978), The Boyfriend (1981) and Twelfth Night (1982). In the last he played a misanthropic, acerbic Feste who tap-danced at one point on the roof of Malvolio's cell: a cruel and darkly comic interlude. His fine tenor voice ensured that Feste's songs were better sung than is often the case. Unsurprisingly, he became a stalwart of Questors choir for several years.

A proud Welshman, he made the part of Mr.Pugh in Under Milk Wood his own in many productions, including a performance in the Playhouse as part of the Questors Diamond Jubilee (1989).
He was a gifted linguist and was the first boy from our school - Penlan Comprehensive, Swansea - to win a scholarship to Oxford (Jesus College) where he sang in the choir and acted with OUDS. Upon graduating, he moved to London, and following a year at the international telephone exchange, near St Paul's, trained as a teacher. He taught French, Spanish and Italian at Sheen Grammar and Richmond-upon-Thames Tertiary College for many years, but found time to gain his TEFL qualification and an MA - a thesis on second language acquisition. These skills he put to good use when teaching English for a year in Frascati to officers in the Italian Air Force.

His funeral will take place in Béziers on 12th June, with a memorial cabaret in Swansea on October 6th at the Dylan Thomas Theatre, where he first trod the boards as a teenager.

John Griffiths (aka John Francis)
---
MEIC LLEWELLYN AT THE QUESTORS
1978 Oh, What a Lovely War!
1979 The Beggar's Opera
1981 The Boy Friend
1982 Twelfth Night
1986 Bartholomew Fair
1989 Pelleas and Melisande
1989 Under Milk Wood
1990 The Busy-Body