NOEL COLLINS (d.2011)
Extract from THE GUARDIAN
Sunday 11 September 2011 18.44 BST
NOEL COLLINS OBITUARY
by Anthony Hayward
Stalwart of the TV police series Juliet Bravo

Noel Collins in
The Exhibitionists are Among Us
The Questors Theatre 1963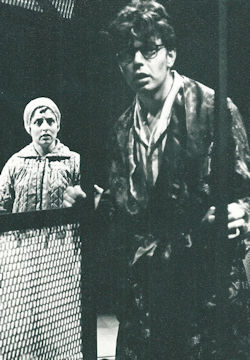 Noel Collins, who has died of cancer aged 74, was a linchpin of the police series Juliet Bravo throughout its entire six-series run. As Sergeant George Parrish, he was familiar for his "Yes, ma'am" response to consecutive uniformed inspectors Jean Darblay (Stephanie Turner) and Kate Longton (Anna Carteret). Parrish and his male colleagues were seen adjusting to working with a female boss in the BBC programme, which was launched a decade before the more hard-edged Prime Suspect - athough four months after ITV's The Gentle Touch, which starred Jill Gascoine as a detective inspector.

The pace of life was slow in Juliet Bravo, whose title came from a police call-sign. The series (1980-85), set in the fictional Lancashire town of Hartley and described by one television critic as "Dixon in skirts", was also notable for being the flipside to its creator Ian Kennedy-Martin's previous, violence-filled crime drama, The Sweeney. Juliet Bravo had to meet the family-viewing requirements of a programme screened before the 9pm watershed. Collins perfectly reflected its parochial nature. He was first seen with rolled-up shirtsleeves, transferring a plate of sandwiches to the cupboard below the police station's front desk. The actor's career ended 15 years ago, when he was diagnosed with lung cancer. He retired after having a lung removed and joined 52 others in a £17m lawsuit against Gallaher and Imperial Tobacco, claiming the companies were negligent in not reducing the tar content in cigarettes once the link between smoking and lung cancer had been established. The claim was abandoned in 1999 because of the prospect of soaring legal costs if it were lost.

Collins was born in London. His father, an Irish immigrant, rose from being a clerk at Sainsbury's to director of a London underwriting firm. After a private education at St Benedict's school in Ealing, west London, Collins served with the Irish Guards for three years, then graduated in law from Durham University, where he began acting. A stint in his father's business was followed by work in a travel agency. At the same time, he gained more acting experience at the amateur Questors theatre, Ealing. Collins made the jump to professional companies as an assistant stage manager, before he acted in a West End production of lncident at Vichy (Phoenix theatre, 1965-66) alongside Alec Guinness, who told him: "You could be a really useful actor."

He had seasons with the Royal Shakespeare Company, with whom he appeared in Tell Me Lies, a 1967 film based on its anti-Vietnam war play US, staged in 1966 at the Aldwych theatre. Collins also made his television debut in 1967, taking the small role of a nightclub guest in the BBC play Days in the Trees.Character roles followed, in one-off episodes of programmes such as New Scotland Yard (1973), When the Boat Cornes In (1976), Enemy at the Door (1978) and Pennies from Heaven (1978), before his face became more familiar to viewers in Juliet Bravo. Although frequently cast as police officers, chaplains and prison warders, in 1989 Collins played a rural hotelier caught up in an
invasion of Arthurian knights from another dimension in the Doctor Who story Battlefield, alongside Sylvester McCoy as the seventh incarnation of the Time Lord.

His hobby in retirement was photography, and he was a member of his local Leyton & Leytonstone Historical Society. Collins is survived by his second wife, Helene; and by a son, Nicholas, and daughter, Lucy, from his first marriage.
Noel Michael Collins, actor, born 11 December 1936; died 15 August 2011
---
Noel Collins at The Questors
1963 The Exhibitionists are Among Us
1964 Is the House Shut?