The Questors Youth Theatre
RUNAWAYS
by Elizabeth Swados

Th Questors Playhouse
September 1998

Directed by Michael Dineen
Musical Direction by William Morris
Designed by Alex Marker
Lighting by Tim Hayward
Sound by Ian Howlett
---
Cast:
Azadeh Akhbari, Mark Allman, Eloise Bond, Robert Boulter, James Boyle, Luke Budden, Nick Budden, Aicha Chiet, Claire Hurley, Wasim Hussain, Sarah-Kate Mcintyre, Lydia King, Emily Mathison, Rebecca Nagger, Katie Philips, Angela Schegel, Jo Seager, Laurence Spellman, Matthew Stacy Taylor, Patrick Waplington, Chris Waplington, Victoria Butler, Jessica Cobham-dineen, Harriett Preston

Production Team:
Helen Bennett, Michael Dineen, Geraldine Hawkins, Tim Haywood, Ian Howlett, Menhaz Janen, Diogo Jennings, Alex Marker, Zoya Mathison, Aine Mcgreevy, William Morris, Renata Nash, Richard Newport, Gurmit Nothay, Melissa Remus, Eddie Tolland

---
The Questors Youth Theatre
Youth Theatre productions at The Questors
---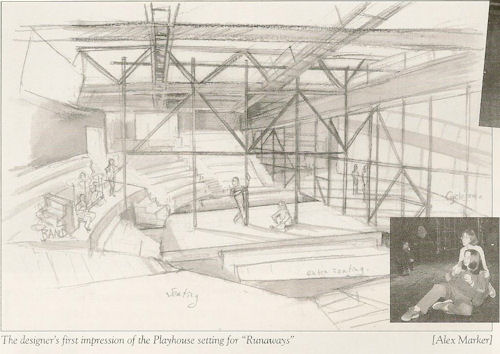 This original piece of musical theatre, first seen on Broadway in 1978, has been
recreated for our own stage by the young actors of The Questors. It's a forceful, moving and colourful show that taps the energy of the young. It tells, in the children's own words, what it's like to live homeless on the streets of New York - or in any city of the world. Their stories have something for us all. Their spirit and imagination touch us. And the music is rich and varied - blues, samba, country and western, reggae, ragtime, disco and punk.
Elizabeth Swados has vividly described the process that brought this unique and imaginative theatrical experience into being. After hundreds of interviews, auditions, workshops and rehearsals, she was uplifted by the spirit of the children she met. "There was an energy, a courage, an honesty in the kids that would constantly challenge my more cliched artistic notions. Their way of speaking, their rhythms, the look in their eyes; they influenced me. I couldn't have done it without them. They would tell me stories. I'd watch them, feel the pressures on them, become concerned about them. Then I'd go off and suddenly there would be a song."
---