The Questors Theatre ("Tin Hut")
June 1951

Directed by Barbara Hutchins
Designed by Norman Branson
Lighting by Gerry Isenthal,
Michael Found
Sound by Albert Gibbs
Costumes by Joyce Hornett

| | | |
| --- | --- | --- |
| Programme | | |
| | | |
| | | |



---
Cast:
Diana Benn, Peter Curtis, Michael Davis, Alfred Emmet, Theresa Heffernan, Peggy Pope, Edmund Scrivener, Clifford Webb


Production Team:
Dorothy Barnett, Janet Beard, Stella Birkett, Alene Cameron, Eileen Fisher, Michael Found, Albert Gibbs, Barbara Gilpon, Margery Goldsby, Joyce Hornett, Gerry Isenthal, Beryl Midgely, Ruth Milner
---
PROGRAMME NOTES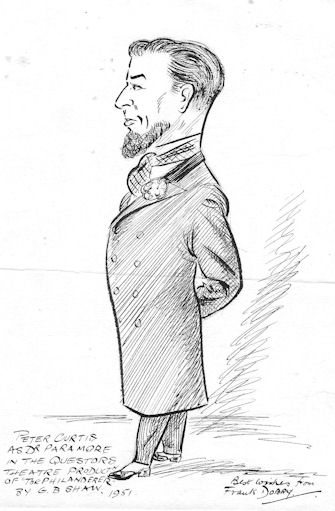 Towards the end of the nineteenth century — in 1889 to be exact — Ibsen's "A Doll's House" was produced in London for the first time. To say that it caused a sensation would be an understatement. The effect was immediate, unprecedented and revolutionary and when the enterprising Mr. Grein, Director of the Independent Theatre which was later to launch the plays of Bernard Shaw, followed this up with a production of "Ghosts," it can well be said that Ibsen had arrived. Indeed he had achieved more than this, he had become a cult.
On all sides one heard of the "new" drama, the "new" humour, and, of course, the "new" woman. Any advanced view at this time was labelled, "the new."
In 1893, when this wave of Ibsenism was at its height, Shaw wrote "The Philanderer." Only his second play (his first was "Widowers' Houses" in which he sought to expose ". . middle-class respectability .. . fattening on the poverty of the slum . . ."), he describes it as a topical comedy. Yet beneath the facade of wit, humour and paradox so characteristic of its author that it was to provide the twentieth century with a new adjective.
Shaw renews his attack upon those crimes of society with which all his earlier plays are concerned. This time it is the marriage laws which are his principal target, "the grotesque sexual compacts made between men and women . . . which represent to some of us a political necessity (especially for other people), to some a divine ordinance, to some a romantic ideal, to some a domestic profession for women, and to some that worst of blundering abominations, an institution which society has outgrown but not modified, and which 'advanced' individuals are therefore forced to evade.
---