MICHAEL VADON (d.2016)
We are sorry to inform members that Michael Vadon, a long-standing member of The Questors and our Finance Director from 1980-89, died on 15 April after a long illness.
Ian Briggs
---
Michael Vadon (from Questopics, December 1981)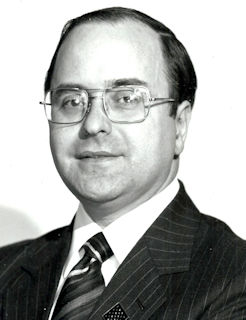 Michael Vadon (pronounced Vahdon) was born in Paddington in June 1940, the son of Hungarian emigre parents who had come to London from Budapest the previous year. In 1962 having gained a BSc in Mechanical Engineering at King's College he went to work for London Transport. During this time he drove a double-decker bus through Ealing Broadway. None of us can refute his claim that
he is the only Hon. Treasurer of The Questors ever to have done so. This was his first contact with Ealing.

However while he was with LT he underwent the sort of career change most of us put off until middle life when he decided that although mechanical engineering was fun, he would rather be an accountant. Unfortunately there was no opportunity for moving from engineering to accountancy within London Transport so in 1967 Michael moved to Hoovers, came to live in Ealing in 1969 and, naturally, joined The Questors. Having qualified as a Cost and Management accountant he moved away to Lancashire working for Leyland trucks, but soon he and his wife and two children felt homesick for us friendly Southerners and more particularly Ealing and The Questors. In 1976 he was transferred to British
Leyland headquarters and moved back to Ealing renewing his contacts with Mattock Lane.

His stay at BL HQ was rather brief as, not happy at what he saw there, he left in 1977 to join Coopers and Lybrand, the chartered accountants, as a Management Consultant. It was here that he made the contacts that led to his being offered the job later that year of Head of Finance at Prestel (the Post Office's Viewdata service) which was then at an embryonic stage.

He relinquished this position recently in order to assume responsibility for strategic planning and accounting services at British Telecom (as the non-postal chunk of the dear old Post Office is now known).
Not content with this meteoric rise in his second career Michael became Parish Accountant for Ealing Abbey in 1976, a job he continued until earlier this year.

Fortunately for us having seen 'almost every main theatre production', Michael felt he must repay some of the pleasure he had received by responding to Martin Bowley's appeal in Questopics for a treasurer. His active participation and helping out on the occasional Bistro.

He sees his principal aims as Financial Director as twofold. Principally he would like to see the finances managed to enable the various departments to get on with their creative tasks without having to worry about financing. [Caution: his watchword is nonetheless `Use ingenuity not money']. And secondly he sees long-term solvency as a prerequisite for The Questors. His introduction of the
new subscription rates at the recent EGM, coupled with payment by Direct Debit are first moves in this direction.

Away from The Questors Michael's chief interest is in travel and making international contacts. For example he has been to Hungary and visited Studio K, whose Woyzeck we all admired, in their home base and earlier this year he met June Judson, who was at The Questors some years ago, at her People's Theatre in Boston, Mass.

He also goes to wine-tasting classes and has been delighted to discover, good accountant that he is, that some of the wines which cost less taste as good, if not better, than some of the expensive ones — a rule that he can well apply to our productions.