PAUL MAUREL (d.2016)
We are sorry to hear that Paul Maurel, our Theatre manager from 1999-2004, died suddenly over Christmas.
Requiescat in Pace
Ian Briggs
---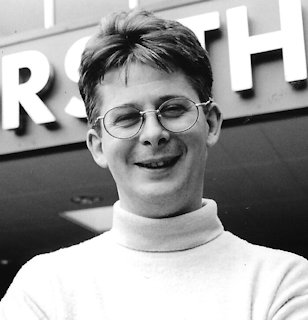 Questopics 442, April 1999
HELLO AND WELCOME TO PAUL MAUREL - OUR NEW THEATRE MANAGER
Many of our more active members will already have met Paul Maurel. He's been our new Theatre Manager for a couple of months now, taking over from Elaine Orchard who has left for new pastures (see last issue). Paul is very approachable, and his cheerful smile will soon be a familiar sight to all of us - backstage, front of house, in the bar! Most of his time though is spent working behind the scenes getting on with the difficult and challenging task of running our thriving and rapidly expanding theatre site.
"I was brought up in the theatre. My father was an opera singer and my mother was an opera producer. After a youthful spell as an actor and singer, I became the World's Worst Stage Manager - I liked having a clipboard and going on stage to present the flowers at the end of the show, but I couldn't understand why I had to turn up before the actors!"
Fortunately, Paul soon discovered a talent for theatre management and began a rewarding career which has taken him to many corners of the British Isles. "I had a wonderful time at the Gaiety Theatre in Ayr, before moving down to Gainsborough in Lincolnshire. Then I crossed the water to Belfast and ran the Arts Theatre, which was a producing house like The Questors. After that I went to Inverness, where we served an area the size of Belgium and had to be all things to all men. People would travel 150 miles across the highlands and islands just to see one show, so we had to do everything - concerts, theatre, ballet. It was a wonderful three years."
Paul took a year off travelling, before returning to London and, then, happily, applied for the post at The Questors. "It's an interesting house, very professional, even though it is run by volunteers and has only a handful of paid staff. Unlike anywhere else I've worked, my employers are also my colleagues, and I find myself having to take the 'Sgt Wilson' rather than Capt Mainwaring' approach: 'I say would you mind falling into as straight a line as possible, thank you, that's awfully good of you.' I enjoy that. And people have been so friendly and so helpful that over the short time I have been here, I have come to love it! I think it's wonderful!"
Looking ahead, Paul sees his job as being very different to Elaine's. The Questors has seen a lot of changes over the last few years, and part of his remit is to help redefine the role of the Theatre Manager. "I've already delegated much of the work to other members of staff and taken on new tasks myself. I like working as a team and I expect most of the changes and controls that I introduce to be invisible to most members. One of the things I hope you will notice, however, is that the office staff will be better placed to help and inform members than maybe they have been before."
We wish Paul all the very best in his challenging new job. I am sure that we will all give him our support and encouragement - as employee and colleague!
---