ERIC KIRBY (d.2003)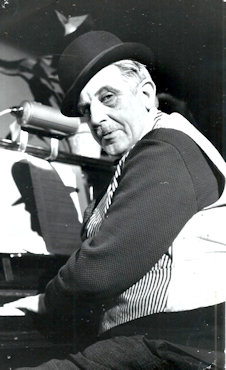 Eric Kirby was one of those people who are larger than life. In Eric's case, quite literally. I don't know how tall he was but he gave the impression of being about seven feet, so much did he tower over other people.
He was a many-sided man. In his work he was a much-loved and respected headmaster and his partnership with Ted Scrivener as dept head must surely have been made in Heaven. Outside work, his life was full of music and fun. If you called round it wouldn't be long before Eric had an excuse to be at the piano with anything from an old music-hall song to a piece by Bach.
There were four great loves in Eric's life: racing, music, the theatre and Meg, his wife. Not necessarily in that order of course. His ambition was to visit every racecourse in Britain and eventually he succeeded, although he was nearly eighty when he did so. Furthermore, he left a trail of angry bookmakers behind him. Eric was one of the few punters who actually made a profit, most of which he would spend generously on his friends. Like many of us, I often went racing with Eric and was mystified by the way he would spot unlikely winners at long odds. While I stood seething with envy, Eric would say, "Don't worry, old chap, you backed the right horse, but the wrong horse won." The winner was Eric's, of course.
Eric's position at The Questors was unique. He belonged to no department. He did not act. He did not work backstage. Yet he remained on of the theatre's greatest personalities. He first came to prominence in 1956 when I asked him to play the piano during my production of our first-ever Christmas melodrama, Sweeney Todd. Eric fitted the role like a glove. Hideous minor bass chords heralded the villain; delicate treble trills announced the heroine; Hearts and Flowers accompanied a kiss.
But Eric wasn't content to let it go at that. He established an immediate rapport with the audience and soon his comments on the action became the funniest part of the show. At first he contended himself with the odd cry of "Shame" or "Aah". But gradually he extended his repertoire, showing a marvellous extempore wit.
I remember in Sweeney Todd, how, when one character said, "It may be she is incapable of reciprocating my affections" Eric interrupted at "maybe she is incapable" with the loud remark, "Oh, I don't think she is." That literally stopped the show for a couple of minutes.
In the great temperance melodrama, The Drunkard, Eric played with a huge packet of cocoa on the piano, and announced at the interval that he was going for a cup of Cadbury's and he hoped the audience would do the same.
Sweeney Todd began a 30-year association between Eric and the Questors piano, sometimes in revues, sometimes in concerts and always in the melodramas at Christmas. He also played a vital part in the success of the first Coarse Acting Show at Edinburgh in 1977, where I took him to cover the scene changes, which were taking longer than the actual scenes, and where he also found time to help Meg run the box office. He played so successfully he got a write-up all to himself. The Edinburgh Evening News commented, "The Questors brought with them a marvellous zany pianist whose cross-talk with the audience was one of the show's delights." And all that at the age of 67.
All in all, Eric had a full life, a happy life and he brought much happiness to other people. No one could ask for a better epitaph.
Michael Green
May 2003