PHYLISS HARRIS (d.1995)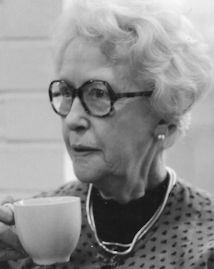 Older members of The Questors will remember Phyllis Harris as an enthusiastic and tireless active member of our theatre from the late fifties into the mid-eighties, first as a member of the wardrobe team and later of the box office team as well. She was very proud to have been a member of the Committee of Management at the time the Queen Mother opened the Playhouse.

Phyllis was quite one of the prettiest women I have ever known. Her perfect features, English-rose complexion, striking blue eyes and petite figure (always band-box neat) put one in mind of a fragile porcelain figurine. But there was nothing fragile about her forthright personality or the grit and determination with which she tackled theatre work. She had a down-to-earth honesty which she would claim she owed to her beloved Yorkshire.

During the later years of her life, and after the death of her husband Leslie, Phyllis became immobilised but she stuck resolutely to her home, helped by exemplary neighbours and good Questors friends. Six months ago, however, she had to move to Clayponds Hospital where she was superbly nursed.

Despite her physical deterioration, she kept to the end her mental alertness and liked nothing better than to catch up on The Questors' news. Only days before she died she was 'putting me right' on my Rhythm of the Road costume — and indeed on my interpretation too. We shall miss her.