TIM GODFREY (d.2004)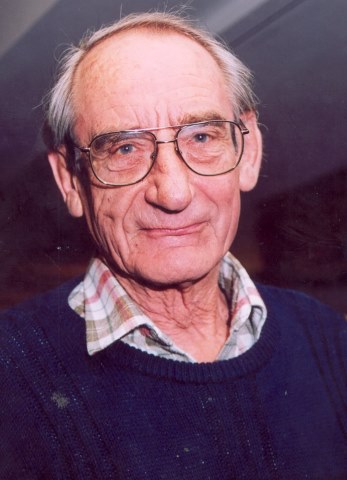 Tim Godfrey, who died suddenly at the age of 69 in April 2004, was an extraordinary character with an extraordinary sense of humour, a stubborn will and unbounded energy.
He guarded our pianos from abuse, he ran fund raising campaigns with a vengeance, he nagged the Questopics editor mercilessly with advice — all of it good! (I can still feel him peering over my shoulder now.)
He built some extraordinary props, wrote some very funny letters to TOAD, founded the Questors Choir, worked on the marketing team, and I think he even directed a play once.
Tim we miss you badly!
JOHN DOBSON
---
Frances Stevenson
Just heard that Tim Godfrey had died, a sad loss to The Questors, and most especially to the pianos.
Tim was always a pleasure to work with. I did a number of shows with him, not all at The Questors, and wish that others were as courteous and attentive to detail as he was. He was a genuinely capable director, with a sympathetic understanding both of the actors needs and talent, and of the demands of the piece, which would, and did, exclude him from being included in The Questors' mainstream. Nonetheless he participated in all areas with gusto, and will be sadly missed.
---
David Emmet
We were all shocked to hear of the sudden death of Tim Godfrey. He had been a regular and noticeable personality around The Questors since the late 1970s.
Tim got involved in so many ways that almost all of us must have worked with him on something. He originally joined as an actor, but (I'm sure Tim wouldn't have minded my saying this) it quickly turned out that acting was not his greatest talent. Indeed, he was the only actor I have ever had to sack from a cast. I was shaking as I told him after rehearsal, and for some time after. Dear Tim got over it far more quickly and realised that I needed looking after and bought me a drink.
Instead he stage managed, fund raised, looked after the pianos, led young people's groups, directed youth productions, edited TOAD, dabbled in publicity and marketing (about which readers of TOAD will be aware he had strong opinions!), and, most famously, was the first director of The Questors Choir.
Tim was one of those invaluable people who we can't do without — people who when asked to do something usually say "yes", and who when they see something that needs doing, volunteer to do it, rather than write to the CoM and demand to know why it hasn't been done. Tim never threw himself into anything with less than total enthusiasm. And he was thick-skinned enough never to be shy about asking others to do things, and telling us why we ought to do them.
As editor of TOAD (jointly with Sue Kendrick) for 5 years from 1981 to 1986, he gave it a distinctive voice and personality, and when he retired continued to write bitingly humorous and sometimes tongue-in-cheek "angry" letters, right up to the last issue.
He kept our pianos working, in spite of the incredible abuse that they often receive, even if it meant cladding them with padlocks and rude notices. He would also play them for you if you asked him nicely. My most recent work with Tim was on Goodnight Children Everywhere, where he took on the challenge of
teaching Aoife Hyslop to play the piano on stage.
For several years Tim took one or more of our youth groups. He suggested that we weren't giving enough opportunity to our younger members, and so put on a production of Peter and the Wolf. Having agreed to stage manage the youth production of The Caucasian Chalk Circle, when the director dropped out with 3 weeks to go, he had no hesitation in talking over. He and I between us got it on.
He did not stage manage often, but when he did, you knew that you were in safe hands. I remember he worked an a student group production of Brecht's A Respectable Wedding, in which all the furniture has to fall apart on cue. Everyone told him how this could be done, but he knew he could devise something simpler and easier. He did, and he built it, and he showed the sceptical cast how to make it work. It never failed.
Tim was never short of fund-raising ideas, and for at least two periods was on our fund-raising committee. It was he who came up with and sold the CoM the idea of paid life membership, as well as other schemes. Many were way out, but he always reckoned that if he offered us 20 ideas, we'd probably go with at least a few of them.
His contribution to The Questors Choir will, I am sure, be recognised by those who have been more closely involved in this area, but I know it was significant. Tim took pride however in the fact that he managed to persuade almost every leading Questors actor to give a reading at the annual carol concert!
Tim, we may have argued with you over all sorts of things, but we always recognised your service to The Questors, and we will miss you.