BERND GAUWEILER (d.2020)
We very much regret to announce that Bernd Gauweiler died suddenly on Friday 2nd October.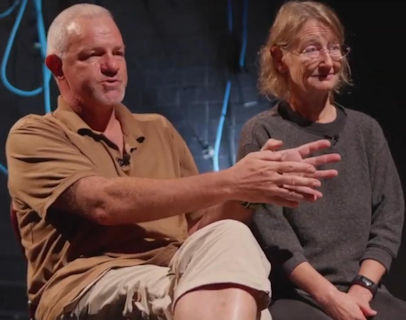 Bernd & Dagmar Gauweiler
Bernd and his wife, Dagmar, were regular visitors to The Questors, and Bernd was a very significant contributor to set construction, and 'get-ins/get outs'. We would lay odds on the fact that if you have acted in more than three productions in recent years you will have stood on his handiwork, and if you are a regular audience member you will have definitely seen it.
Bernd was 55. Until he recently retired, he had limited time to give, so mainly involved himself on those critical Sundays when we fit up the set in the auditoria. A highly capable constructor, it was always a relief to have him on the team as he knew what he was doing; indeed, Bernd had the unfailing knack of divining which productions might struggle on the big day and of turning up when you most needed him. As well as his carpentry skills, Bernd had the skill (and the power to go with it) of being able to lift an 8-foot by 4-foot steel deck unit single handed. It's no exaggeration to say he brought not only his creativity and his calm approach to fits ups, but he also saved us a great deal of time by his ability to manoeuvre large pieces of scenery.
His final production contribution was putting up the silver portal on the QYT production of Hairspray and he also worked on our summer lock-down maintenance initiatives. A quiet man with a wry sense of humour (it was always difficult to persuade him to appear in a photograph!) you can see Bernd in the Playback film Home Is (https://www.youtube.com/watch?v=8Ynegsze0iU), where he and Dagmar talk about arriving in London from Germany and what The Questors has meant to them over the years.

Well, in return, he has meant a lot to us, and sadly we have been deprived of him far too soon. We will miss him and extend our heartfelt sympathies to Dagmar.
Doug King and Alex Marker
11 October 2020