GORDON CALEB (d.1999)
Martin Bowley writes: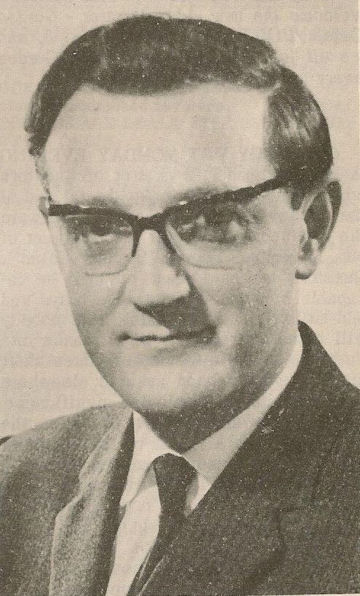 Gordon Caleb (ca 1967)
Gordon Caleb, who died on 5th May [1999] after a long and painful illness bravely born, was a great servant of our theatre. He joined us as Administrator in 1967 and held that post with great distinction until his resignation in 1976. Throughout that period I was either Secretary or Chairman, so I probably know better than most how much we are all in his debt. He followed a time of administrative instability – we had had four administrators in as many years – and his safe hands guided us through nine years of major change. They saw the opening of the Redgrave Room, the building of the upper foyer, the establishment of the Studio, Alfred's resignation as Honorary Director, the development of Questabout, four International Amateur Theatre Weeks, an L.T.G. conference, and the introduction of V.A.T.

Gordon was a highly talented musician and composer. Tone deaf as I am, I must leave it to others to pay tribute to those talents. But one thing I did share was his passion for Questors statistics. Never before, or since, had the Committee of Management been provided with so much detailed information on which to base its decisions. And we needed it if we were to survive in times of rampant inflation – usually in double figures and one year reaching 27%. During his period of office the theatre's turnover almost trebled, membership increased by about a quarter, the number of productions went up from 14 to 21. And amidst all that Gordon remained calm and unruffled at the centre of the hurricane that was then The Questors Theatre. He was a delight to work with. He was a wonderful companion. He was a great friend to us all. His election as an Honorary Life Member on his retirement was an honour richly deserved. He will be deeply missed, and at this time all our thoughts are with Jean. We share her grief. Of Gordon it can truly be said "We are richer for knowing him, poorer for losing him".
[Questopics 445, July 1999]
---
Gordon Caleb at The Questors
1972 The Provok'd Wife, The
1973 Herr Puntilla and his Man Matti
1978 Oh, What a Lovely War!
1979 The Beggar's Operae
1979 The Coarse Acting Show 2
1981 The Boy Friend
1987 Somewhere in England