JOHN CLEMOW (d.2001)
Jan Connor remembers her father
JOHN CLEMOW 1921-2001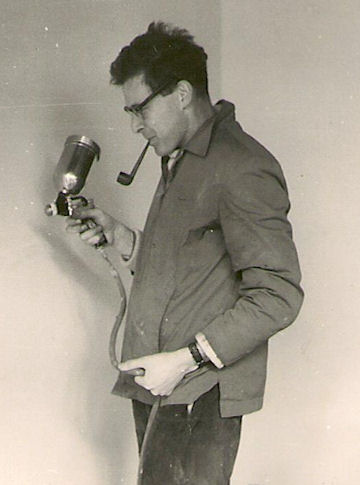 Building the Shaw Room (1956)
I had always believed that my family moved to Ealing because of my education, but I now discover it was so that my father, John Clemow, could live nearer to his beloved Questors.

As far back as I can remember, John was involved in Amateur Dramatics and some of my earliest experiences were of sitting in a draughty village hall in Norward Green watching rehearsals. I can only have been about five, and I guess my father had been told to look after me for the afternoon. No wonder that English was my best subject at school, I had probably seen all of Shakespeare's plays by the age of ten.

When we moved to Ealing in 1952, I was nine years old, and The Questors immediately became a huge part our lives . The first plays I saw were in the old Tin Hut and I can vividly recall the energy and excitement of it all. John would be totally consumed by whatever part he was playing at the time and would go to enormous trouble to perfect his performance. I remember particularly when he was in Summer and Smoke, he contacted an American soldier from the nearby base to help him achieve the correct southern accent.

He was transformed on stage from my dad, to this charismatic, handsome and passionate young man. I was immensely proud of him but I did sometimes wonder who was my real father, the actor or the man. I don't think he always knew himself.

I always accused him, with the cruel perception of the young, that when we all went for walks on a Sunday morning he was only playing the part of Family Man and that it was just as much an act as when he was on stage. I think he was somewhat hurt by this but there was probably an element of truth there.

My mother Joan was also very involved in the social side of The Questors, and I remember sitting on the stairs listening to all the fun of the first night parties, which always seemed to take place in our house. I took it all totally for granted and sort of assumed that all children had a house full of actors all the time.

I did wish at times though that my parents would slow down a bit and do some of the things that other children's parents did; take up gardening, or knitting, wash the car on Sunday afternoons instead of always rushing off to rehearsals. I bought John a walking stick for his thirtieth birthday thinking that at his great age he would surely be needing a bit of help to get around. He was not amused.

When I was about fourteen, John organized a skiing trip to Norway for the whole family and a group from The Questors. We went to Lillehammer by boat and train and I shall never forget the sheer beauty of the fjord as we sailed up to Oslo. It was a fairly Spartan holiday as we all stayed at a youth hostel but it was a wonderful experience. I remember June Pond being there and also Dilys Dodd, who later became a nun I believe. Dorothy and Carla Craik came as well and I remember my first sauna bath, where we had to roll in the snow afterwards.

The building of the new theatre was a tremendously exciting time and the whole family got involved. John would spend hours every weekend helping with the building work and I can remember learning how to do pointing on the green room. My mother would make sandwiches for the workers together with Alma and Coya and we all felt a tremendous sense of purpose. When I was about eighteen, John decided to give up work and go to RADA to train as an actor and a producer. He lived in a little flat in London and I used to go and visit him there as I was at college in Putney. It did feel rather odd, having a father who was a student at the same time that I was. Although he did well there, I don't actually feel that his work improved a great deal in fact some of the passion went out of it. He had learned his craft in the traditional way and performances that I watched at the Vanbrough seemed somehow more studied and artificial.

Certainly John never progressed to the professional stage, although he did a considerable amount of production in Paris with an American group. I remember in particular an excellent version of The Petrified Forest that I went to see. In his last few years he recorded talking books for the blind, so he was involved in acting almost to the end of his life.

Looking back on my childhood with John, I realize that it was a rich and exciting time, although I probably did not appreciate it then. I never seemed to have enough of him as there were always so many demands on his time and energy. I believe that some of his happiest years were spent at The Questors. He found a fulfillment there for his tremendous talent and energy and although it is many years since he last performed on the Questors stage, he will be long remembered as an actor, a producer a builder and a friend.
[Questopics 470, November 2001]