LISTER BECK (d.2000)
IN MEMORY OF LISTER BECK

Lister Beck, our longest serving member, died on 7 October 2000. Here is an extract from the address that Kit Emmet gave at his funeral:

"I first met Lister in October 1943 in the kitchen in the old Questors Theatre. It was a Sunday afternoon, and I was preparing rehearsal tea. A rehearsal was going on in the theatre; I remember the play, it was Moon in the Yellow River by Denis Johnston. The outside door opened and this young man stood there. He said 'Hullo' and I said something like 'Hullo, can l help?' And he said, 'Is Alfred here?' Alfred [Emmet] was directing the rehearsal and, being only a newcomer of a couple of years' standing, I would not have dared to interrupt the proceedings, so we went and sat in the seats at the back of the theatre and he told me who he was, that he had joined The Questors in 1936, and that he had been away in the forces. That afternoon saw the resumption of an association with The Questors that few, if any, could equal - not even Alfred, our Founding Father, who only notched up sixty-two years.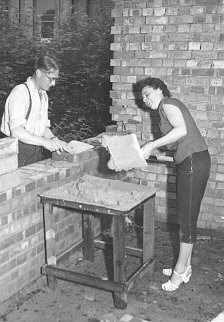 "Lister was a very private person; in all the years that I have known him, he never talked much about himself. He loved music, and he loved the open air and walking. For many years he would disappear from active life at the theatre during the summer months and take parties of serious walkers on long guided tours.

"Lister wore many hats. As an actor I have been in plays with him, and I directed him once in Charley's Aunt. He served on the Committee of Management and for many years was the Honorary Treasurer. It was in this context that we had the only disagreement that I can recollect. Lister could, when annoyed, be quite irascible and on such occasions those formidable eyebrows of his would draw together in the most intimidating fashion and sparks would fly.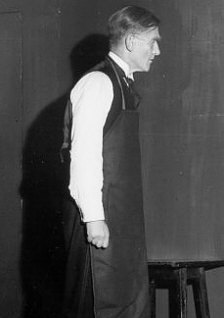 "But my over-riding memory of him must be as OC of the building project for the new theatre, during the 1950s. He was truly magnificent, turning up on site in all weathers, marshalling his very amateur workforce in the most professional manner and showing a personal commitment that we were hard put to it to match. It is to our shame, I believe, that we took so long to honour him with Honorary Life Membership. When it was finally bestowed, too few of us remained fully to appreciate the enormous debt that was being acknowledged. For it was not only with bricks and mortar that Lister helped build the new theatre: he was always one of the first to put his hand in his pocket to help financially when crises loomed. His help in this regard made no small contribution to the achievement of the new playhouse, but his generosity has continued subsequently in many ways such as the sponsoring of productions.

"So it is with great humility that I say, Thank you Lister, for all that you did and for all that you contributed in so many ways."

(December 2000)