ARTHUR BOYD TAYLOR (d.1981)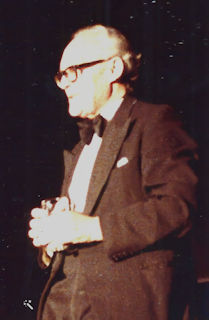 Members will be grieved to hear of the death of Arthur Boyd Taylor on March 6th.

Arthur had been Chairman of the Grapevine since it started and it was largely due to his example and leadership that it had grown into the successful club that is the heart of the working and social sides of the Theatre. Even when he knew he was very ill he remained a working chairman until he finally went into hospital and even there he was concerned daily for the club's affairs.

Although not an acting member, few who saw him as the tenor in the Temperance Quartet will forget his hilarious performance and his ability to hold a rowdy audience was shown in the drily witty speeches with which he welcomed in the New Year or presented the Chairman's Annual Report to The Grapevine A.G.M.

Arthur's strength grew from his family and to work on his Committee was to feel that one was part of a family atmosphere in which all worked together for the Questors. He was a kindly, humane and above all tolerant man. He will be deeply missed.

All our thoughts go in comfort to Dolly, Tony and the family.

ALAN CHAMBERS
---
WHAT IS BOYDIE ? ? (Questopics January 1967)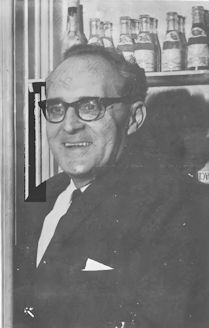 Continuing the series of personal profiles on the people who help to make Questors tick, we this month introduce Arthur Boyd Taylor. In the absence of Joan Pyle who has written the Grand Tour column so far, we asked Bill Wall, himself a founder member of the Grapevine Committee, to write on Arthur who,
under protest), is allowing us to print it.

Four or five years ago Mike Green founded a very successful Temperance Quartet, a picture of which hangs in the Grapevine bar. Three of the Quartet are normal singers and actors. The fourth is the only coloratura tenor in the world. He combines this bizarre distinction with being Chairman of the Grapevine Committee, and as though this is not enough to bring him into disrepute, he is also a member of the Committee of Management. His name and style......Mr Arthur Boyd Taylor.

You will often see Arthur's congenial face in the Grapevine. To be precise, when he is on duty his is the only congenial face you will see. At other times Arthur can be seen doing 'front of house' duty; a task he surprisingly seems to be able to perform entirely from within the bar.

'Boydie' is a founder member of the Grapevine Committee, and he has convinced all of us that he leads us. Whither he is leading us is usually a matter of heated discussion.

He has worked for a famous engineering firm for the last forty-three years, and is almost a proto-type of the elder British businessman. In fact amongst his American associates he is known as the man in the grey flannel shawl.

Nan, his wife, is the centre of calm efficiency in the Shaw Room refreshment bar, whilst his daughter and son-in-law, Dorothy and Tony Barber, claim to be acting members. There is a move afoot to affiliate Questors to the Boyd Taylor family.

At the head of this article you will see a photograph of the original Grapevine bar with Arthur inside, standing almost upright. Graham Heywood who designed the bar refused our request to re-design Arthur at the same time.

Under Arthur' s direction the Grapevine has become so crowded that the ghosts of the Black Hole of Calcutta feel at home there and nowhere else. He tells me that he has many ideas for the future of the Grapevine and the Theatre. But do not worry, dear reader, we trust that the fact that Arthur has only one vote will allow common sense and decency to prevail as heretofore.

There are plans being discussed to alter the layout of the 'Lodge' and enlarge the Bar. We all hope that Arthur will still be our (then centenarian) Chairman to officiate at the opening ceremony.